Overview
Plantar Fasciitis is a common athletic injury of the foot. While runners are most likely to suffer from plantar fasciitis, any athlete whose sport involves intensive use of the feet may be vulnerable. The risk of plantar fasciitis increases in athletes who have a particularly high arch, or uneven leg length, though improper biomechanics of the athlete's gait and simple overuse tend to be the primary culprits. If you suffer from plantar fasciitis or are seeking to prevent its occurrence it is important to follow the information in this article. In addition, adding a few simple stretches to your fitness program will also help.
Causes
Each time we take a step forward, all of our body weight first rests on the heel of one foot. As our weight moves forward, the entire foot begins to bear the body's weight, and the foot flattens and this places a great deal of pressure and strain on the plantar fascia. There is very little elasticity to the plantar fascia, so as it stretches only slightly; it pulls on its attachment to the heel. If the foot is properly aligned this pull causes no problems. However, if the foot is "pronated" (the foot rolls outward at the ankle, causing a break down of the inner side of the shoe), the arch falls excessively, and this causes an abnormal stretching of the relatively inflexible plantar fascia, which in turn pulls abnormally hard on the heel. The same pathology occurs with "supination" (the rolling inward of the foot, causing a break down of the outer side of the shoe). Supinated feet are relatively in flexible; usually have a high arch, and a short or tight plantar fascia. Thus as weight is transferred from the heel to the remainder of the foot, the tight plantar fascia hardly stretches at all, and pulls with great force on its attachment to the heel.
Symptoms
Patients with plantar fasciitis typically experience pain underneath the heel and along the inner sole of the foot. In less severe cases, patients may only experience an ache or stiffness in the plantar fascia or heel that increases with rest (typically at night or first thing in the morning) following activities which place stress on the plantar fascia. These activities typically include standing, walking or running excessively (especially up hills, on uneven surfaces or in poor footwear such as thongs), jumping, hopping and general weight bearing activity. The pain associated with this condition may also warm up with activity in the initial stages of injury. As the condition progresses, patients may experience symptoms that increase during sport or activity, affecting performance. In severe cases, patients may walk with a limp or be unable to weight bear on the affected leg. Patients with this condition may also experience swelling, tenderness on firmly touching the plantar fascia (often on a specific spot on the inner aspect of the heel) and sometimes pain on performing a plantar fascia stretch.
Diagnosis
If you see a doctor for heel pain, he or she will first ask questions about where you feel the pain. If plantar fasciitis is suspected, the doctor will ask about what activities you've been doing that might be putting you at risk. The doctor will also examine your foot by pressing on it or asking you to flex it to see if that makes the pain worse. If something else might be causing the pain, like a heel spur or a bone fracture, the doctor may order an X-ray to take a look at the bones of your feet. In rare cases, if heel pain doesn't respond to regular treatments, the doctor also might order an MRI scan of your foot. The good news about plantar fasciitis is that it usually goes away after a few months if you do a few simple things like stretching exercises and cutting back on activities that might have caused the problem. Taking over-the-counter medicines can help with pain. It's rare that people need surgery for plantar fasciitis. Doctors only do surgery as a last resort if nothing else eases the pain.
Non Surgical Treatment
A doctor may prescribe anti-inflammatory medication such as ibuprofen to help reduce pain and inflammation. Electrotherapy such as ultrasound or laser may also help with symptoms. An X-ray may be taken to see if there is any bone growth or calcification, known as a heel spur but this is not necessarily a cause of pain. Deep tissue sports massage techniques can reduce the tension in and stretch the plantar fascia and the calf muscles. Extracorporeal shock wave therapy has been known to be successful and a corticosteroid injection is also an option.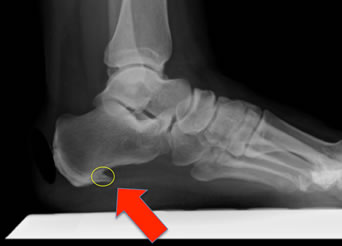 Surgical Treatment
When more-conservative measures aren't working, your doctor might recommend steroid shots. Injecting a type of steroid medication into the tender area can provide temporary pain relief. Multiple injections aren't recommended because they can weaken your plantar fascia and possibly cause it to rupture, as well as shrink the fat pad covering your heel bone. Extracorporeal shock wave therapy. In this procedure, sound waves are directed at the area of heel pain to stimulate healing. It's usually used for chronic plantar fasciitis that hasn't responded to more-conservative treatments. This procedure may cause bruises, swelling, pain, numbness or tingling and has not been shown to be consistently effective. Surgery. Few people need surgery to detach the plantar fascia from the heel bone. It's generally an option only when the pain is severe and all else fails. Side effects include a weakening of the arch in your foot.